Author links open overlay panel YasuteruSakuraiab, Mya MyatNgwe Tunc, YoheiKurosakiab, TakayaSakurad, Daniel KenInaokadf, KiyotakaFujinee, KiyoshiKitafg, KouichiMoritac, JiroYasudaab
Department of Emerging Infectious Diseases, Institute of Tropical Medicine (NEKKEN), Nagasaki University, Nagasaki, 852-8523, Japan
National Research Center for the Control and Prevention of Infectious Diseases, Nagasaki University, Nagasaki, 852-8521, Japan
Department of Virology, Institute of Tropical Medicine (NEKKEN), Nagasaki University, Nagasaki, 852-8523, Japan
Department of Molecular Infection Dynamics, Shionogi Global Infectious Diseases Division, Institute of Tropical Medicine (NEKKEN), Nagasaki University, Nagasaki, 852-8523, Japan
Pharmaceutical Research Department, Global Pharmaceutical R&D Division, Neopharma Japan Co., Ltd, Tokyo, 102-0071, Japan
School of Tropical Medicine and Global Health, Nagasaki University, Nagasaki, 852-8523, Japan
Department of Host – Defense Biochemistry, Institute of Tropical Medicine (NEKKEN), Nagasaki University, Nagasaki, 852-8523, Japan
Highlights
5-amino levulinic acid (5-ALA) inhibited SARS-CoV-2 infection in cell culture.
Antiviral activity of 5-ALA was more potent in human colon-derived Caco-2 cells than VeroE6 cells.
The antiviral activity of 5-ALA was dose-dependent without significant cytotoxicity.
Abstract
The current COVID-19 pandemic requires urgent development of effective therapeutics. 5-amino levulinic acid (5-ALA) is a naturally synthesized amino acid and has been used for multiple purposes including as an anticancer therapy and as a dietary supplement due to its high bioavailability. In this study, we demonstrated that 5-ALA treatment potently inhibited infection of SARS-CoV-2, a causative agent of COVID-19, in cell culture. The antiviral effects could be detected in both human and non-human cells, without significant cytotoxicity. Therefore, 5-ALA is worth to be further investigated as an antiviral drug candidate for COVID-19.
Graphical Abstract:
Fig. 2 
5-ALA inhibits SARS-CoV-2 infection in both VeroE6 cells and Caco-2 cells. (A) A chemical structure of 5-ALA. (B and C) To address the effects of compounds on virus infection, VeroE6 cells were treated with 1000 μM of 5-ALA with and without 25 μM of SFC for 72 h (B) or 48 h (C) and challenged with SARS-CoV-2. Virus infectivity was calculated by counting the number of infected cells and normalizing it to untreated cells (mean ± SD, n = 3). (D and E) Infectivity of SARS-CoV-2 in Caco-2 cells with pretreatment for 72 h (D) or 48 h (E) were determined as (B) and (C). Each data set is representative of at least two independent experiments.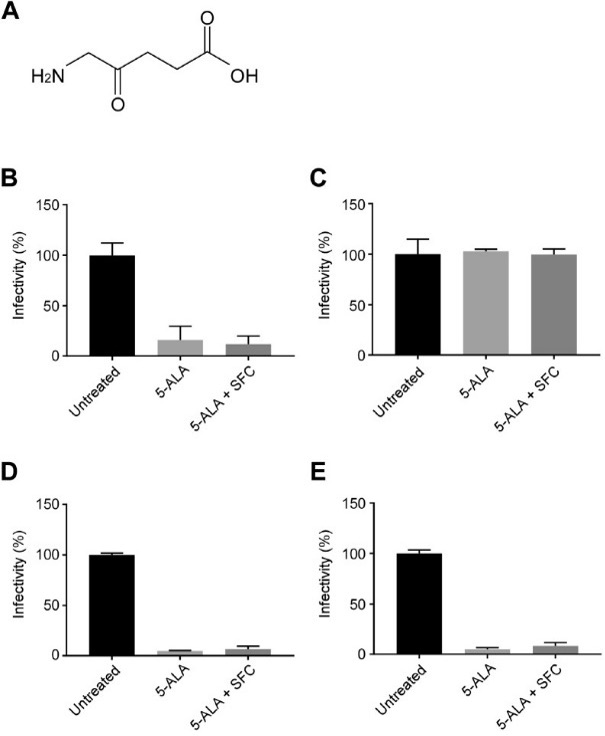 Copyright © 2021 Elsevier Inc. All rights reserved.
Journal Abstract: https://pubmed.ncbi.nlm.nih.gov/33571909/